From sea to sea, across the Scandinavian peninsula
From the coast of Baltic Sea in Sweden
to the Atlantic coast of Norway
Stråsjöleden - The Route of Stråsjöleden -
Jämt-Norgevägen to Nidaros/Trondheim - Sankt Olav
Foto: Wilhelm Reichel, Elisabeth Andersson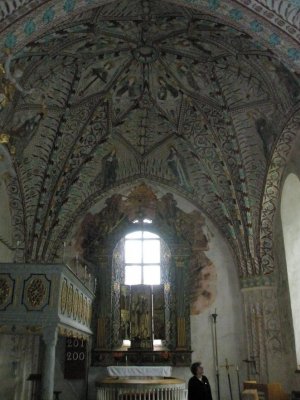 The beginning in the medieval church of Enånger
Startpunkt Mittelalterkirche in Enånger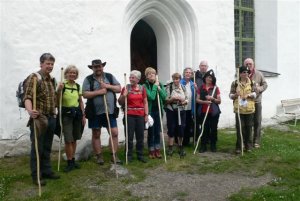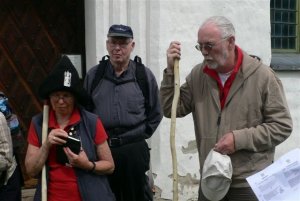 Pilgrimsgrupp från norra Tyskland - Pilgergruppe aus Nord-Deutschland www.jakobswege-norddeutschland.de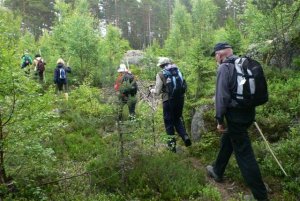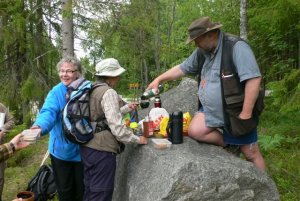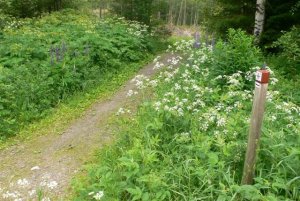 First coffeebreak - And then the road goes on... 
Erste Kaffeepause - Und dann weiter...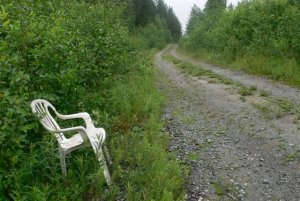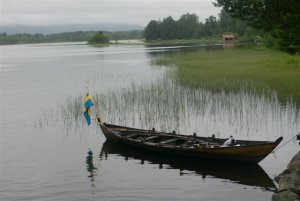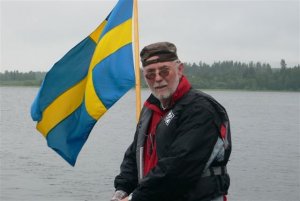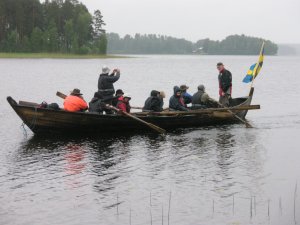 "Churchboat", a traditional boat in the province of Hälsingland
"Kirchenschiff", traditionelle Schiffe im Provinz Hälsingland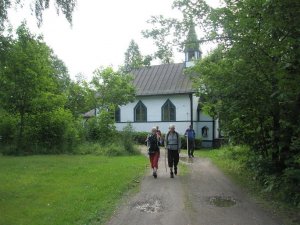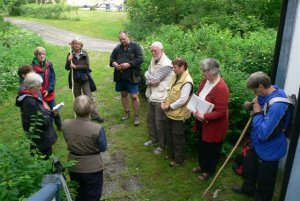 Catholic Chapel "Sacred Heart of Jesus" in Sörforsa -
Katholische Kapelle "Herz Jesu" in Sörforsa, Hälsingland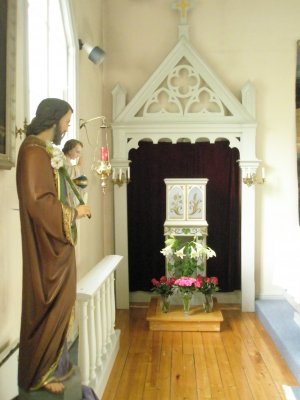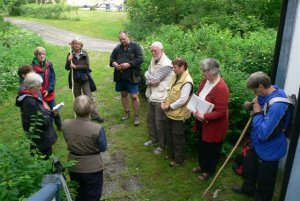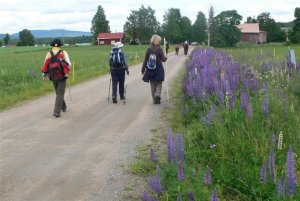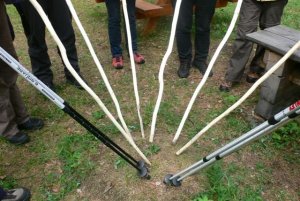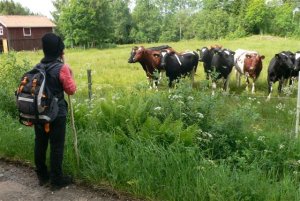 Meditation about the Keywords of a pilgrim                Meditation for cows?
Meditation über die Schlüsselwörter eines Pilgers        Meditation für Kühe?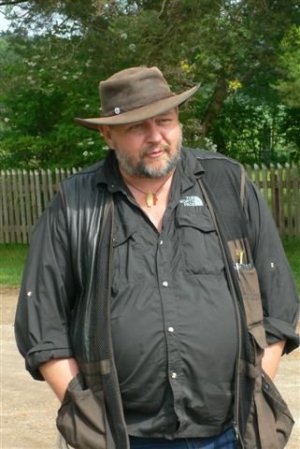 Ulf Krantz, guide and chairman for Pilgrimstid, "Time for pilgrimage"
Ulf Krantz, Guide und President für Pilgrimstid, "Pilger-Zeit"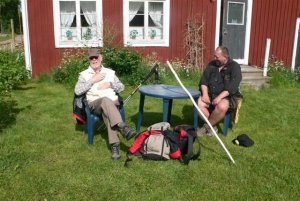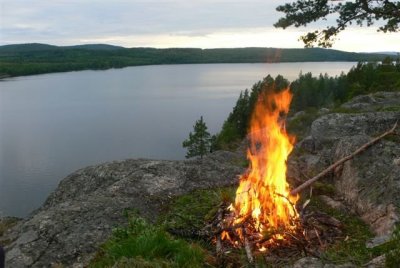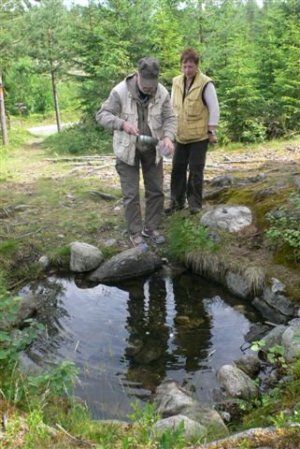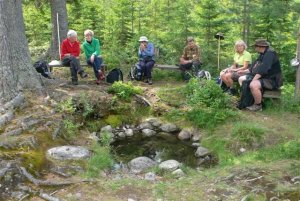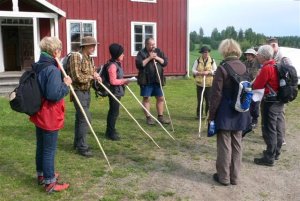 By the well of Saint Josef, Hälsingland
Bei der Quelle von Sankt Josef, Hälsingland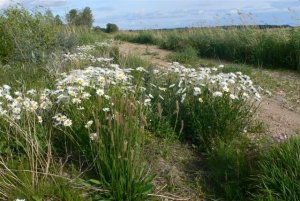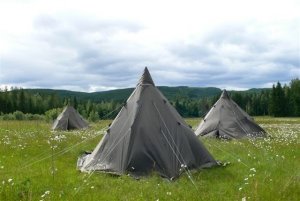 A night in tent, surrounded by beautiful flowers.
During Midsummer time it does not get dark during the night 
Eine Nacht in den Zelt, von schönen Blumen umgeben,
während Mittsommerzeit wird es kaum dunkel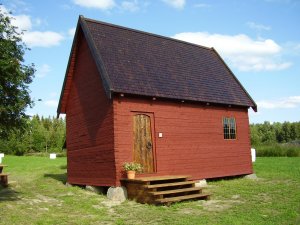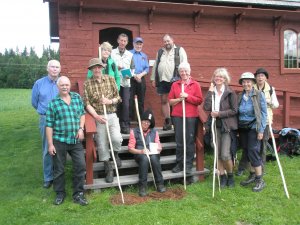 After the first week of walking the pilgrims arrive
at the reconstructed medieval chapel of Stråsjö

Nach die erste Woche kommen die Pilgern an der Kapelle in Stråsjö an
(in 2006 eingeweiht, ökumenische Kapelle)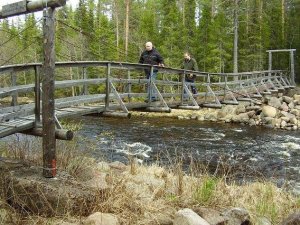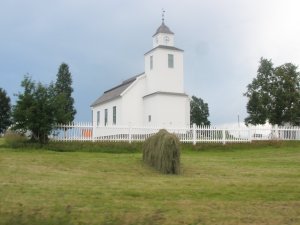 A few more weeks of walking and the pilgrims arrive first to the bridge over Röjån, south of Klövsjö and then to Storsjö chapel.
Noch einige Wochen zum laufen und die Pilgern kommen erst nach der Brücke über Röjån, südlich von Klövsjö, und dann nach der Kapelle von Storsjö.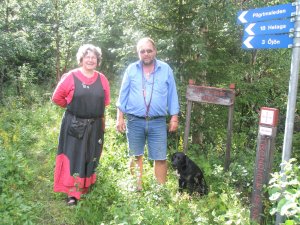 Following the route "Jämt-Norgevägen" over the high mountains and the Swedish-Norwegian border the pilgrims will eventually arrive in Trondheim, city of Saint Olav. Here in Ljungdalen you are close to the "fjäll", high mountains.
Wenn die Pilgern der Weg "Jämt-Norgevägen weiter folgen über den hohen Bergen und der Schwedisch-Norwegische Grenze, kommen sie endlich in Trondheim an, die Stade vom Heiliger Olav. Hier in Ljungdalen ist man nahe zu den "fjäll" die hohe Berge.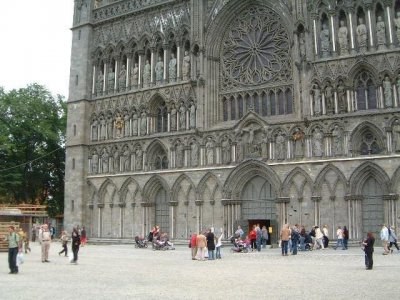 Cathedral in Trondheim; "Nidarosdomen"
Der Kathedral in Trondheim; "Nidarosdomen"